- The BIG Picture...
- VENDOR ROW!!
- Sponsorships & Vendors
- Contact Information
- FFT 2011 Sponsors!
- Sponsored & Team Pilots
- NEWS & Discussions!!
- FFT Program of EVENTS!!
- PRIZES!!
- HOTEL INFORMATION!!
- Hotels
- Driving Directions
- GPS Coordinates
- RD-RC/FFT North Hills Expo!
- BUY RAFFLE TICKETS NOW!


DOWNLOAD, PRINT & SHARE the 2011 Fly-for-Tots FLIER!!
The full resolution flier is a .jpg file and is easy to print to 8.5" x 11" paper. Click the pic!

- HISTORY OVERVIEW
- FFT 2010
- 2010 FFT Photos
- FFT 2009
- 2009 FFT Slideshow
- FFT 2008
- 2008 FFT Photos
- FFT 2007
- 2007 FFT Photos
- FFT 2006
- 2006 FFT Slideshow
- FFT in AMA Mag!!


Horizon Hobby Reps on site! Some of the good folks from Horizon Hobby will be on site to assist FFT attendees with information on their products, etc. Horizon Hobby is always a tremendous contributor to the Fly For Tots and we look forward to having them with us.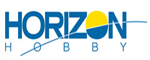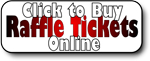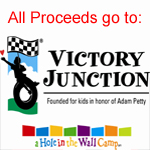 2011 Fly For Tots Sponsored & Team Pilots
This is a list of who will be performing live during the Noon Time Demos and flying with everyone during the 2011 Fly For Tots. Check back often, as this list will be growing regularly!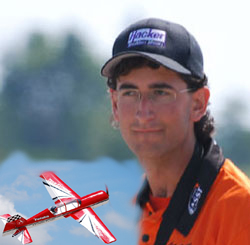 ->R.J. Gritter
- RJ is lives in Greensboro, NC. He is a full time student & Full-scale private pilot. RJ is sponsored by Futaba, Hacker Brushless Motors, Fancy Foam Models, 2DogRC and is an AMA Turbine waiver holder. One heck of an Indoor F3P flyer and a tremendous 3D/IMAC pilot, he has competed in the ETOC 2007, 2008 & 2009, Arizona EF-Expo Invitational, 2008/2009 Futaba XFC, including many others! See RJ's 1-Wing Landings in the 2009 Fly For Tots video!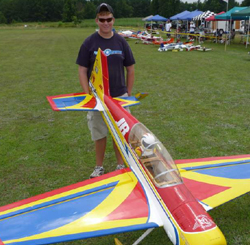 ->Jamie Hicks
- Jamie Hicks, from Bowling Green, Ohio is another of the "young guns" on the 3D aerobatic scene these days. He started flying RC on 6 years ago and has been successfully competing in IMAC for the last four. He currently competes in the IMAC Advanced class. Jamie qualified for the XFC in 2008 and 2009 and earned a top ten finish last year. He was also a competitor in the ETOC "indoor aerobatic" competitions where he is climbing through the rankings. Jamie is sponsored by 2dogrc.com, Higher Plane Productions & Fancy Foam Models. When he's not flying models, Jamie is studying as a college student or flying a full-scale Piper Cherokee. But he'll be flying with his feet on the ground at the 2011 Fly-for-Tots as he performs low-level, 3D aerobatics with his QQ Yak!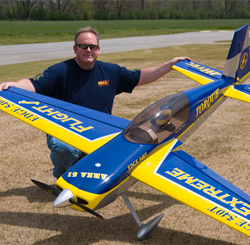 ->Chris Hinson
- Chris Hinson is the proprietor of "Extreme Flight RC" in Cumming, Georgia. His innovative and high quality ARF aircraft designs have tremendous worldwide appeal among 3D and sequence pilots alike and are often found in the winner's circle at events. He develops exciting products that range from fast/maneuverable delta-wing "Outlaw" to many sizes of electric/gas scale aerobatic aircraft. His soon-to-be-released 40% Extra is drawing a lot of attention and will certainly become a standard for IMAC competition. Chris' talent does not end with his design expertise. He's also a very accomplished RC pilot and musician! Look for Chris to belt out some "licks" both in the air and with his guitar at the 2011 Fly-for-Tots.

->Lee Morey
- Lee is sponsored by JR, Horizon Hobby, Extreme Flight RC. Lee is an excellent 3D pilot and put's on an awesome wing tip to weed dragging show with his Extreme Flight 110" Yak! See Team Extreme's Lee Morey and his transmitter workouts at the 2011 Fly For Tots.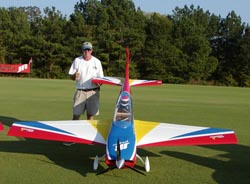 ->Gerald Neel
- Gerald Neel is from Mooresville, North Carolina. He is into IMAC, is a 3-D Pilot, and is a Team Futaba Pilot. He participated in 1998 & 2000 Tournament of Champions, 1996-2000 & 2006 Don Lowe Masters, and the 2004 Tucson Shootout. You've got to come see this guy fly at FFT 2011!!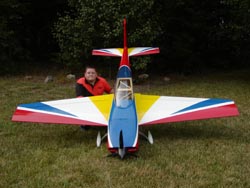 ->Kevin Young
- Kevin Young is 26 years old and is from Mooresville, North Carolina. As the JTEC Radiowave Operations Manager, he is also a JTEC Radiowave Test Pilot, maintains the JTEC website, and is a Team Futaba Pilot. Come see him rock the sticks at Fly-For-Tots 2011!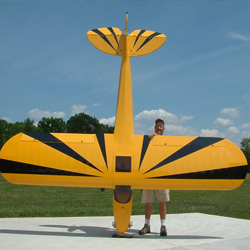 ->Andy Kane
- Andy Kane currently flies one of the first Composite-ARF Yak 55SP and he loves "big and powerful". He is a JR Team member, has been a modeler for over 33 years and has held a private pilots license since 1975. Andy has attended the Joe Nall Fly In for the last 10 years, competed in every World Aerobatic Masters, now the Don Lowe World Aerobatic Masters since 1996, and has competed in the IMAC Nationals in the Unlimited category for numerous years. See Team JR's Andy Kane and his HUGE Bill Hempel Cub and Composite ARF's at the 2011 Fly For Tots.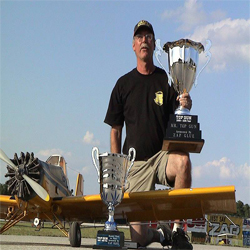 ->David Hayes
- Mr. Top Gun 2009! David started flying R/C with RDRC in 1973 and has been competing in scale contests since 1975. He moved to Roanoke Rapids, NC in 1980 and worked as an A&P mechanic for 12 years before working in the wind tunnel model and RPV building business. David has won the coveted title of Mr. Top Gun 2008 & 2009!!! and has won countless awards with his highly detailed scale masterpieces, including the Master Class at Top Gun 2005 and was crowned "Grand Champion" in designer class at the 2003 Scalemasters' Championships. His award winning Rockwell Thrush "Crop Duster" with functional sprayers is a museum piece and is a model that has to been seen in action to be believed. He was one of the original members of the AMA Chartered 95th Squadron MAC Inc and currently holds the position of President /CEO. See David Hayes spraying for pests at the 2011 Fly For Tots.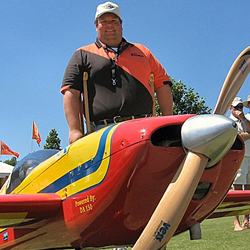 ->Elton Fairless
- Elton is a Team Futaba pilot and has accomplished a lot in his many years of R/C activity. He is an impeccable precision and 3D pilot. A former XFC and Don Lowe Masters competitor, graduate of NC State University under Professor Robert Vess, Elton is now a Senior Aerospace Engineer at Cherry Point NC for the Navy/Marine C-130 and Fire Scout UAV programs. For 2009 Elton will be flying a Great Planes 38% Extra 300S powered by a DA-150 with Vess Prop and guided by a Futaba 14MZ with the 2.4G FASST module. See Elton Fairless wringing out his 38%'er at the 2009 Fly For Tots.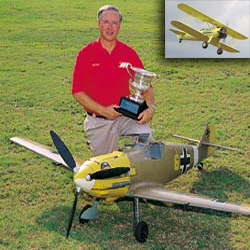 ->Jeff Foley
- Jeff has been an expert modeler and pilot for over 44 years. His accomplishments include Mr. Top Gun 2000 & 2003, 5 Time Top Gun Master Class winner, 5 Time US Nationals Designer Class winner and is a Team JR and Team Horizon Pilot. Jeff is also involved with UAV/RPV development and is an excellent full scale pilot. It has become the norm to be treated by a fly-by or two by Jeff and his beautiful Stearman Bi-Plane. He also includes a free airplane ride in his vintage beauty in our raffles every year! See Jeff Foley Flying models from the ground and in the real thing at the 2011 Fly For Tots.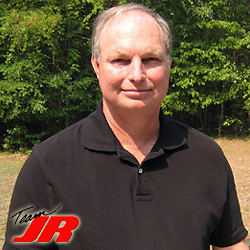 ->Joe Rafalowski
- Joe has been an avid modeler for over 38 years and is sponsored by BVM and Horizon Hobby. Joe is also an accomplished Airline Pilot and founding member of the Georgia Jets. With interests in Jets, Scale, Giant Scale Racing, Joe has won 2002 & 2003 First Place Expert Class Top Gun Scale Contests! See Joe and his Jet Fuel Addiction at the 2011 Fly For Tots.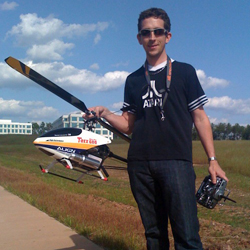 ->Kenny Thompson
- Kenny Thompson is a Team Pilot for Beam Helicopters. He regularly competes in local area RC helicopter fun fly competitions. His numerous top 3 finishes is highlighted by a recent 1st place finish in the Carnage 450 Helicopter Pylon Races at the 2008 IRCHA Helicopter Jamboree in Muncie Indiana. He has been a fan of RC modeling for his entire life but has been a dedicated 3D helicopter pilot for the last 5 years. On weekdays Kenny makes as an artist developing Xbox 360 video games. However, on weekends a switch is flipped and he can normally be found sharpening his 3d helicopter piloting skills at his home field, RDRC, or the closest helicopter fun fly. Spectators should expect to see nothing less than a down on the deck, 3d smack down, helicopter demo that will push his machine to the ragged edge of its physical capabilities.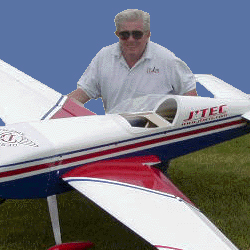 ->Al Young
- Al Young is the owner and chief designer at JTEC/Radiowave and flies for Futaba. His designs are extremely popular in the giant scale 3D realm and IMAC competition. See Al Young taking his designs for a mind boggling ride at the 2011 Fly For Tots.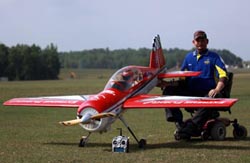 ->Chris Carnes
- Chris "Lucky" Carnes has been flying RC Airplanes and Heli's since September 2004. He was a member of an AMA show team for three years, flying rc demos up and down the East Coast. Chris is a R&D Team Guru pilot, as well as the resident team airbrush artist for Guru Aviation.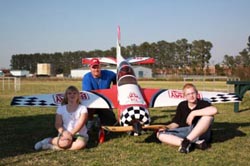 ->Ricky Tant
- Ricky "Bell-Ray" Tant is a team pilot for Bel-Ray oil company as well as Chief Aircraft. He is also proud to be part of the GURU R&D team pilot. He also flies up and down the east coast doing demos and sharing his passion for RC airplanes.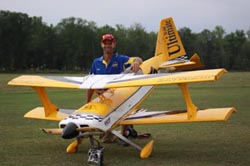 ->Cody Hazen
- Cody Hazen is the newest member to the Guru Aviation crew, with his go big attitude and his love for others. He is a great addition to our growing family. Cody is involved in many aspects of Guru Aviation, from flying, designing, cutting and promoting goodwill, fellowship and the hobby.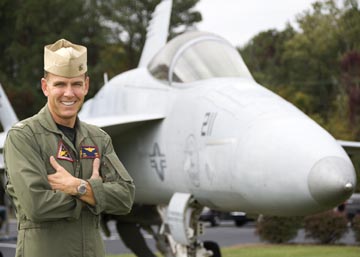 Special Guest at 2011 Fly For Tots!
Tom Huff, from Leonardtown, Maryland, began modeling in the more classical progression from scale plastic kits, to control line, and then radio control. During Middle School in Columbia, MD, Tom had a shop teacher (Ed Mitchell) that was a master modeler, and remained a close friend and modeling mentor until Ed lost a courageous battle with cancer in 1997. Tom was a member of the Fort Meade Modelers (Maryland) and later, the River City RC Club in Louisville, KY. While in Louisville, Tom befriended a neighbor who was a commercial pilot and nationally ranked RC helicopter pilot (Pete Bankson). Tom's brother, Scott was also an RC fanatic, and together with Pete, participated in some fierce RC combat over the years. Though Tom never lost the RC bug, full size aviation was always the calling. Working as a Lineman at Bowman Field to pay for flying lessons, Tom could solo an airplane before a car, which never sat well with his mother. Recognizing that military aviation would allow greater opportunities, Tom attended the US Naval Academy and embarked on a journey to fly jets from the decks of aircraft carriers. During advanced jet training in Kingsville, TX Tom was introduced to pattern flying from Steve Kessler and attended several meets in Texas and Louisiana. Despite scarce time for RC, Tom occasionally flew with the Gateway RC Club in Jacksonville, FL, then with a group that endured the heat and dust of the dry lakebed at China Lake, CA and later with the Tidewater RC Club in Virginia Beach, VA. During current and several past tours at Naval Air Station Patuxent River, MD, Tom flew with the Pax Aeromodelers and served as Vice President and President of that club. Tom currently dabbles in helicopters, IMAC, as well as electrics. He incorporates control line and RC aviation into his Boy Scout Aviation Merit Badge Counselor program and is embarking on a local school modeling club and Science, Technology, Engineering, and Math (STEM) instructional effort.

CAPT Thomas W. Huff hails from Louisville, Kentucky and graduated from the United States Naval Academy in 1984. He was designated a Naval Aviator in December 1985 and remained with VT-21 in Kingsville, Texas as a Selectively Retained Graduate (SERGRAD) to instruct in the TA-4J aircraft.

CAPT Huff transitioned to FA-18's and reported to the "Valions" of VFA-15, where he made both the maiden Mediterranean deployment in USS THEODORE ROOSEVELT (CVN 71) in 1988 and the Gulf War deployment in 1991, participating in Operations DESERT STORM and PROVIDE COMFORT.

CAPT Huff was a Weapons Training Officer at Strike Fighter Weapons School Atlantic, prior to attending the U.S. Naval Test Pilot School, Patuxent River, Maryland with Class 102. Upon graduation in 1992, he was assigned to the FA-18 Weapons System Support Activity, China Lake, California, participating in mission computer software integration and APG-73 radar development.

In 1996, CAPT Huff reported to the "Gunslingers" of VFA-105 for his Department Head tour, completing a third deployment in ROOSEVELT that included Operations DELIBERATE GUARD over Bosnia and SOUTHERN WATCH in Iraq. In 1997, he reported to the Naval Strike Aircraft Test Squadron (VX-23), Patuxent River as the Test Wing Atlantic Ordnance Support Team Lead, conducting stores compatibility and carrier suitability testing.

In 1999, CAPT Huff reported to VFA-87 as Executive Officer and commanded the squadron until July 2001; deploying in ROOSEVELT and ENTERPRISE (CVN 65), and participating in ALLIED FORCE and SOUTHERN WATCH. After attending the Naval War College, Newport, Rhode Island in 2001, he returned to Pax River as the Class Desk systems engineer for the FA-18 Program (PMA-265). He subsequently commanded U.S. Naval Test Pilot School and then served as Chief of Staff for Program Executive Officer, Unmanned Aviation and Strike Weapons. He assumed command of Naval Test Wing Atlantic in 2008 where he currently serves.

CAPT Huff's awards include the Distinguished Flying Cross, Meritorious Service Medal, and Air Medal. He has accumulated over 4500 tactical jet flight hours and 600 carrier landings.

CAPT Huff resides in Leonardtown, Maryland with his wife Terri. Their son, ENS Zach Huff is a 2010 USNA Grad and aviation select, and their daughter Lauren recently soloed as a student pilot, and is a junior at Florida Atlantic University in Boca Raton, FL.