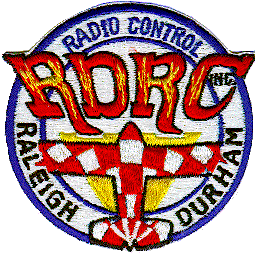 ---
TIPS FOR BEGINNERS
A few do's and don'ts for the beginner...
---

!!STOP!! If you don't see a menu on the left, click HERE to jump to the front and begin your RDRC Experience! RC Video Feeds added, check the 'Miscellaneous' section of the LH menu for these new webcasts.



Get a "beginner-type" airplane. Goldberg Eaglet or Eagle, Great Planes' PT-20 or PT-40, Sig Kadet, etc. No Jets, Air Racers, Sporty Sleek Sky Bolts or such. Don't let anyone talk you into anything other than a trainer...you'll be sorry if you do. Get a 4 channel radio.

Be sure to get a LEGAL radio. It must NOT be on 75 mhz. Commonly on 72 mhz, anything from channel 11 to channel 60 with the Gold RCMA sticker affixed somewhere. If it's not Gold Stickered, don't buy it.

It would be very wise to get some advice from an experienced modeler before you buy ANYTHING! Call one of the numbers on the "RDRC Club Contact" list for advice.

If you have never built an airplane kit before, you should at least meet with an experienced modeler to get some tips.

You should bench run your engine before installing it in the airplane. This is not so much for break-in purposes as to give you a chance to become familiar with handling it.

DO NOT ATTEMPT TO FLY YOUR MODEL BY YOURSELF THE FIRST TIME! If you do you'll probably be sorry...

The key to success for beginners is to get help right from the start. It's so much easier to start out right than to correct mistakes later on. The best time to get help is before you buy anything. This can save you time, money, aggravation, and disappointment.

RDRC members are friendly and willing to help...and to get help you only have to ask!
---
Custom CNC Machined Components for the R/C Industry

1405 Patterson Road, Durham NC - (919) 596-0143

1101 Mendenhall Street, Thomasville, NC - (866) 929-0249

2810 Forest Hills Road SW, Wilson, NC - (252) 237-6778

1207 D Kildaire Farm Rd, Cary, NC - 919-465-3353

1475 Beaver Creek Commons Drive, Apex, NC - (919) 387-6615

4505 Fayetteville Rd, Raleigh, NC - (919) 772-1211

Do you own a Hobby Shop and want to place a banner here? Email the webmaster at wb4iuy@eastrc.org






RETURN to the RDRC Main Website!